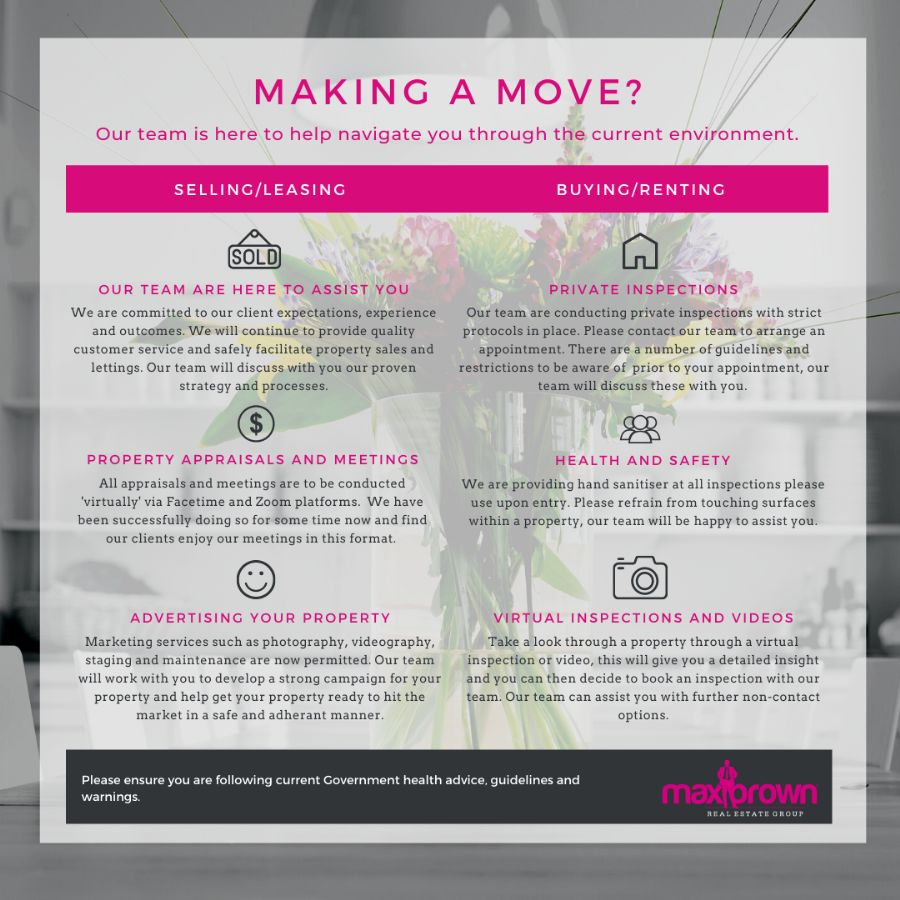 Our greatest priority is the health and safety of our team and valued clients.
We will continue to monitor advice and implement guidelines accordingly to best protect our team, clients and community. We would like to assure you we have employed a number of measures across our business to minimise the potential spread of the virus whilst helping clients with their needs.
We understand that people still need to transact and lease property and our team are here to help you.
"Clients for life" is our motto and we are continuing to work hard to achieve results for our clients and are committed to working with them to help navigate the current environment.
We encourage everyone to stay informed, safe and look out for each other during these unprecedented times.
Making a move? Our team is here to help navigate you through the current environment.
We are committed to our client expectations, experience and outcomes. We will continue to provide quality customer service and safely facilitate property sales and lettings. Our team will discuss with you our proven strategy and processes.
Thing's will look differently to ensure we adhere to all current guidelines and restrictions, please see below for further information.
Health and safety precautions
The occupier(s) of a property for sale or lease are required to leave during an inspection for one of the permitted reasons under the Stay at Home Directions.
Hand sanitiser will be available at all inspections and we require its use prior to entry into the property.
The property should be well ventilated and include the opening of all internal and external doors at all times during inspections.
Please Minimise the touching of surfaces within the property by, turning on lights and opening all cupboards, drawers, windows and doors.
Our team will ensure any surfaces touched during an inspection are disinfected at the completion of the inspection.
We will be keeping records of all inspections or marketing activity undertaken, including necessary contact details of attendees
Private inspections
Inspection by appointment only- please contact our team to arrange a time.
For one agent and one prospective buyer/tenant, who may be accompanied by one other person from an existing household or an intimate partner and the prospective buyer or tenant's children under 18 years old if there are no appropriate alternative care arrangements available.
A person can leave their home for a maximum of two hours to attend a prearranged private inspection of a property, each private inspection must be for a maximum of 15 minutes.
The 5km rule does not apply for private inspections, though it is not permitted to travel to regional Victoria to attend an inspection.
Please use the hand sanitiser provided at all inspections.
Please practice social distancing at all times.
Please refrain from touching surfaces within the property, our team will be happy to assist you.
Advertising your property
Marketing services such as photography, videography, staging and maintenance are now permitted.
Limited to one agent and one service providor.
Our team will work with you to develop a strong marketing campaign and help get your property ready to hit the market in a safe and adherent manner
Property appraisals
We can safely visit your property for an appraisal adhering to current guidelines.
Alternatively, we can complete a 'virtual' appraisal via Zoom or Facetime
You can visit our website to claim your comprehensive property report via maxbrown.com.au
Questions
We know, there is alot of information to take in! If you have any questions our team would be happy to assist you, please contact us anytime.
We will continue to monitor advice and implement guidelines accordingly to best protect our team, clients and community.
For further information keep an eye on our Facebook Page, website or please contact us on 131 629. We look forward to hearing from you soon!
By Emma Jackson - 01-Oct-2020
Share
The Edge
Join home owners across Victoria and receive real estate related articles straight to your inbox.