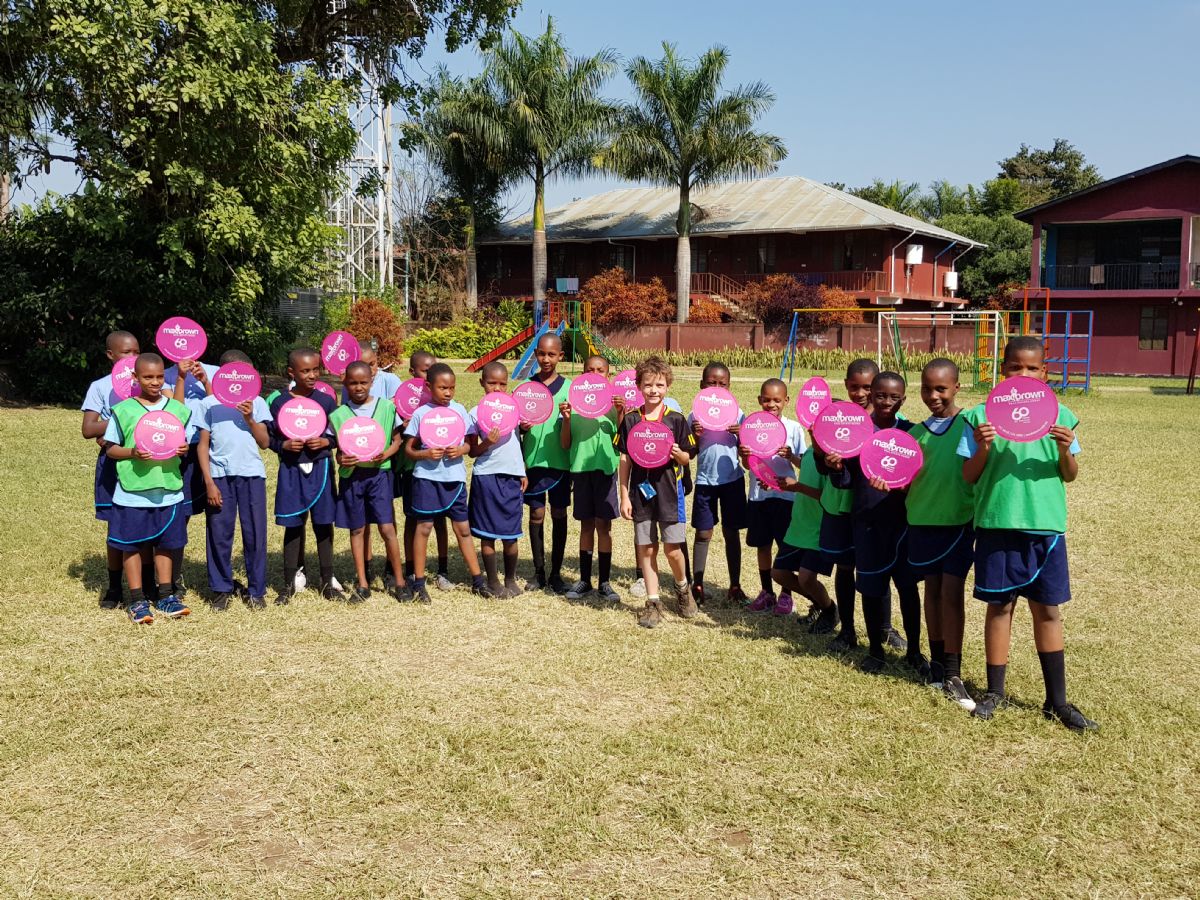 MONTROSE RESIDENTS HELP FIGHT POVERTY IN TANZANIA
Julie, Ross and their 9 year old son Hayden Morgan, who hail from Montrose, recently visited one of the most popular African safari destinations in the world – Tanzania. For many, the focus of such a trip would be the wildlife, but for the Morgan's it was a different story.
They decided to visit The School of St Jude, dedicated to fighting poverty through education.
During their visit, the Morgans offered a collection of donations to St Jude's including educational DVDs, sporting equipment, art supplies and a special poster created by Hayden's Grade 3 art class (Montrose Primary school) depicting Australian animals.
Much to the children's delight during a P.E class, the Montrose family also presented a bag of bright pink Frisbees kindly donated by Max Brown Real Estate Group who were eager to also give to this worthy initiative.
The School of St Jude was founded by NSW humanitarian Gemma Sisia in 2002. It offers a free, quality education to 1,800 of the brightest, poorest children in and around the Arusha region in Northern Tanzania, funded entirely by charitable donations from individuals.
St Jude's welcomes visitors and supporters to see for themselves the impact the school is making and the three Victorians experienced this first-hand; joining students in classes such Art where they learnt local weaving technique, Music where they learnt African drumming, Physical education and reading with students in the library.
Visiting a local government school as part of the visitor program showed them the stark reality between St Jude's and the under-resourced, understaffed schools in the Tanzanian education system. It comes as no surprise that, according to UNICEF, almost 70 per cent of Tanzanian children aged 14–17 years are not enrolled in secondary education.
When students from St Jude's complete their schooling, they are supported in a Community Service Year. They use their quality education to help fill the gaps in government schools in their local community by teaching core subjects to government-school students. To date, over 40,000 students have been educated by St Jude's graduates.
On their visit, the Morgans saw how these graduates are bringing to life the school's mission, becoming the moral and intellectual future leaders of Tanzania.
On their final morning in Arusha, the Morgan's attended a Q&A session with The Founder of the School of St Jude, Gemma Sisia.
"I've watched students mature into young adults and to see their progress still blows my mind," Gemma said. "The fact that these children come from the most disadvantaged backgrounds and maintain a spirit and verve for education is worth all of the hard work and sacrifices."
Since the Morgans left St Jude's, the junior students in particular have taken a shine to the frisbee's donated and are often seen out in the yard, no matter the heat, having a blast. After all, no one said future leaders can't have fun!
The School of St Jude
In 2002, Gemma Sisia opened The School of St Jude with three students and a big dream to bring the opportunity of a free, high-quality education to children living in poverty. Today, St Jude's is a pioneering leader in charitable education within Africa. We are giving 1,800 students free, high-quality education, 100's of graduate's access to higher education and 10,000+ Tanzanians, quality teaching each year.
At St Jude's, we encourage Tanzanian youth to do more than just succeed – we empower them to transform their community, challenge the status quo and find solutions for the 12 million Tanzanians living in poverty. We have seen 80% of our graduates' families overcome extreme poverty and our graduates emerge as role models in their community.
Every year St Jude's offers academic scholarships to bright, poor students through a fair and thorough process that ensures St Jude's fulfils its vision and mission. Our approach has always been different to child sponsorship agencies that financially support a child's home life. We focus on education as a means to reducing poverty.
Find out more about St Jude's and how to support a student at St Jude's at www.schoolofstjude.org
By Emma Jackson - 24-Oct-2019
Share
The Edge
Join home owners across Victoria and receive real estate related articles straight to your inbox.